News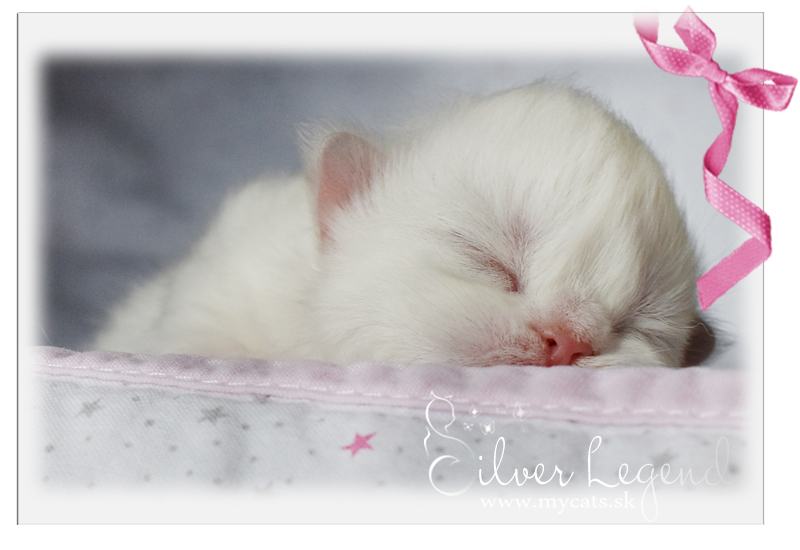 ***************************************************
Once upon a time, day met a day, one week met anther week, december touched with january....new year again. The year 2017 was filled with unforgettable moemnts, and our breeding programm is one generation ahead again. Our family grew bigger with Ursa Major from Raven City and kitties from our offspring, Tarra, Umma a Yvanka. Fortune is full of hidden signs, they become visible only step by step. One of these signs was hidden in tummy of our Ella, her name is C"est La Marmelade ♥

Magic and power of mother nature blessed us after 3 years of waiting with little wonder again. Wonder in form of motherhood our Vanilli.
Wonder with the name Ewa of Silver Legend.

One of most magical moment of last year was the birth of 7 kitties. Litter A. They left a permanent paw print
in our hearts ♥.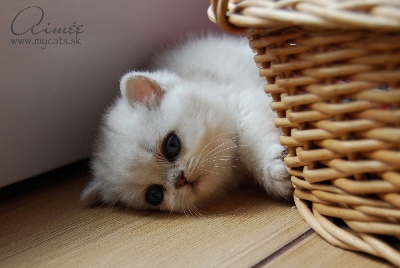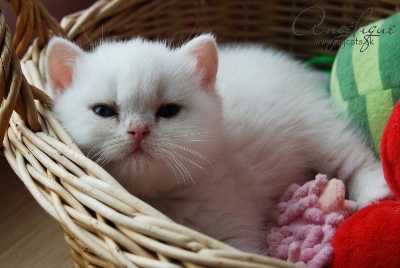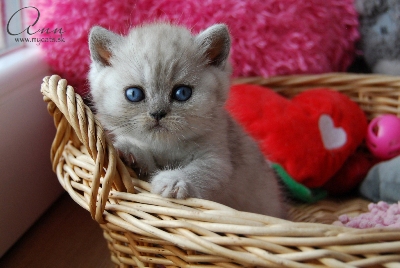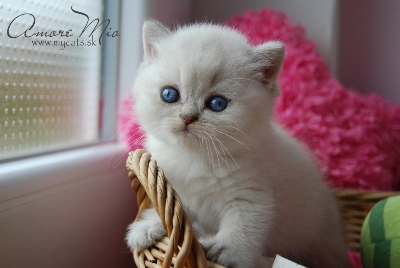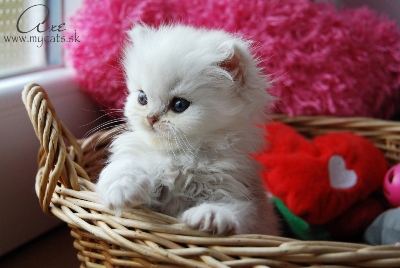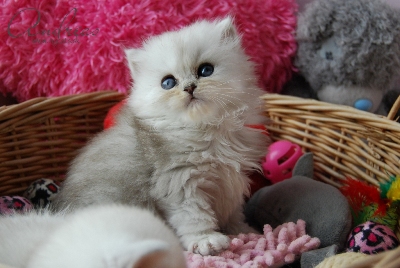 Snowy december, the last month in this year prepared for us new generation and also the first litter of our Mandarine
(Ursa Major from Raven City) 5 most charming little noses ♥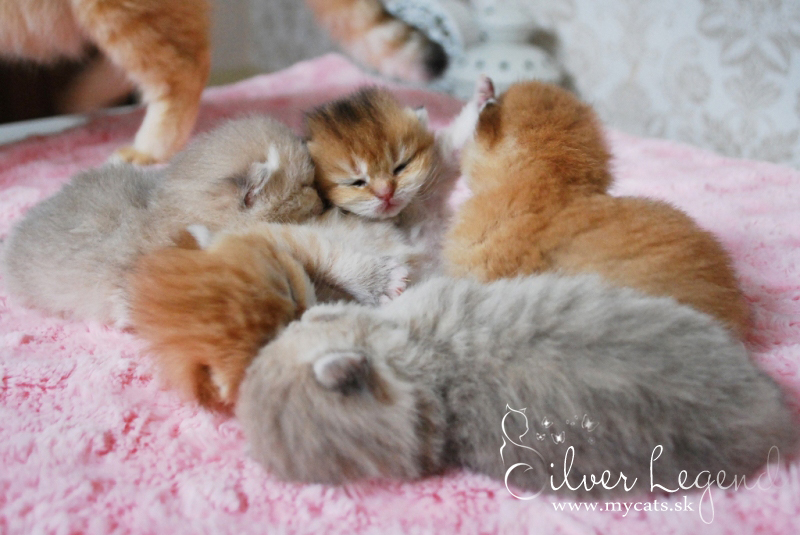 ♥ It has been unforgetable year...we are looking forward to the new one ♥

---
Breeding cattery Silver Legend looking for loving family for two golden shaded boys, little Tiger and his "always happy" brother, GoGo. They will be prepare to the trip to new home at the end of January, with 2x vacinations PUREVAX PCPCh + against Rabies, and also 4x deworming. Every kitten leave our cattery with pedigree and pet passport, and also with kitten box of favourite food and toys. An advice is part of the departure and adaptation of each of our kittens. Possible transport to Bruck an der Leitha.
If you have interest in a kitten from our cattery, please, feel free to get in touch with us by e-mail.
Givenchy, alias Little Tiger and choco-golden brother GoGo (Genesis)

---
Wising You Happy Holidays And New Year Filled With Prosperity & Success. Learn From Yesterday, Live For Today, Hope For Tomorrow. This Year Believe In Yourself And Achieve Everything You Deserve A New Year Is On The Way And The Possibilities Are Endless. May You Have A Year That Is Filled With Love, Laughter, Brightness And Hope. ♥ Happy New Year 2018! ♥

---
Wishing you beautiful moments, treasured memories, and all the blessing a heart can know. Merry Christmas to all our friends ♥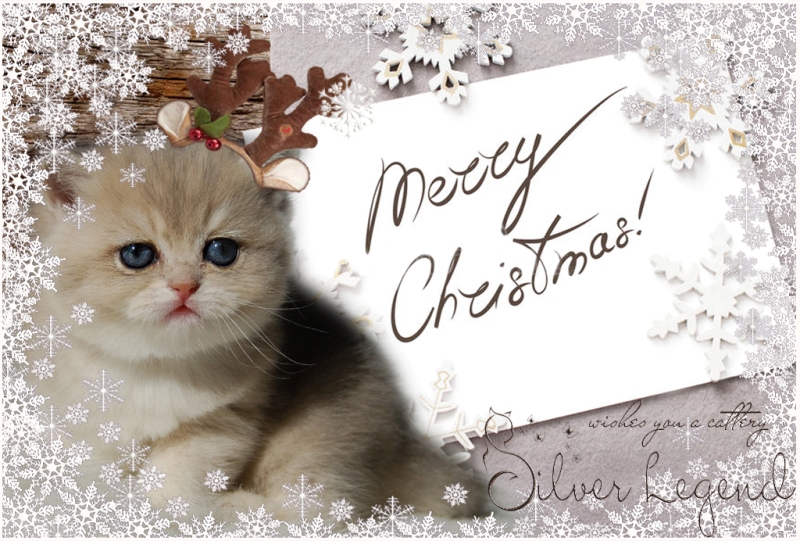 ---
One upon time, there was one room full of beautiful, snow-white children ♥

Our lovely Snow White, I love you of Silver Legend ♥

---
The time has come for first efforts and first successes, and our mini paws enjoy the love of move with their full breaths. ♥ Days full of discovering all scents and smells, discovering the first and first games. One of the most beautiful discoveries of "safety in my palm" has already been discovered. I"m in love ♥
My sweet girl, Golden Beauty of Silver Legend.

Even our "professional" oldest baby-boy has entered the time of game and moody mischief.

---
Again, there is the magical time, the time of coming new life. Our winter story added an unsigned leaf in the chronicle of life, so that each of our little babies can leave own piece of story. With love we would like to introduce our winter childrens, F, G, H and I litters ♥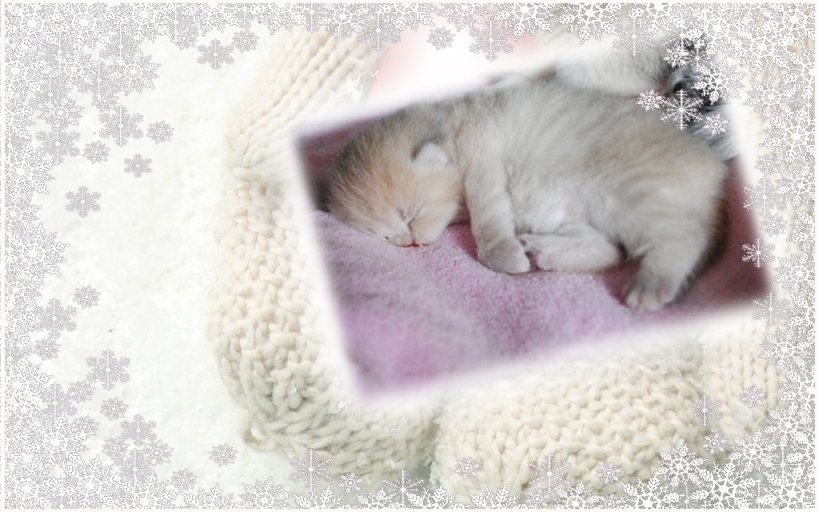 ---
Mrs. Autumn has conjure the real autumn days for us with everything that belongs to it. Even our velvet paws feel this change.
Our September story was written ... Enjoy it with us

---
With our velvety paws we enjoy days full of relaxation and warmth of home. One of the beautiful periods of the year full of colors, love and the arrival of autumn newborns comes to us. Together with our paws we wish to all our friends a beautiful day in warm under the blanket.

---
At this moment we enjoing days full of relaxation and love in the family circle.
We plan new kittens in term autumn - winter 2017.

---
Long years our breeding stand on two strong pillars, two founder cats of Silver Legend breeding. Sundust´s Golden Esperanza and Golden Wolly vom Wahrberg. I recognized shortly after neutering of Esperanza that nothing will last forever and nothing is sacrosanct in this world. Our whole breeding kept ballancing on only one pillar, Wolly. Future and stability cannot be guaranteed standing on only one pillar. So there is the time to form new generation with trust and belief, that in this generation I will find two new pillars for our future. Pillars that can support all my dreams and plans for the next years, stable basis to build on. From one side there will be the descendants of Esperanza and Wolly. From the other side a journey is waiting for us to search, and find, the right clue. The answer is waiting on the end of this journey, in our new generation.
Today exactly 12 years ago the chronicle of our breeding programm began to develop.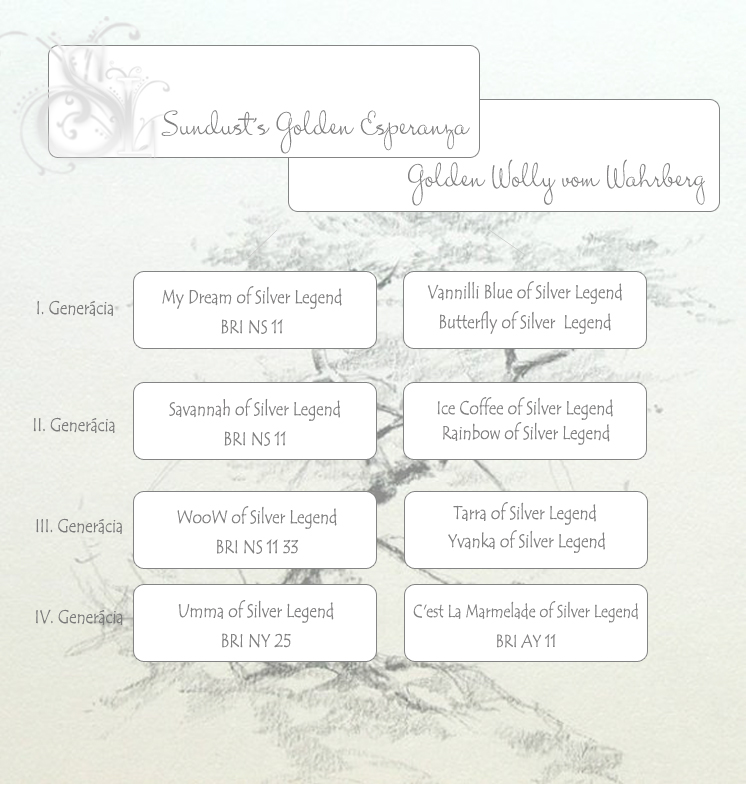 At the beginning I loved the uniformity, accurately set all posible results of the mating, all kitties in one colour. Pedigrees without one blind spot, all, until the last cat in pedigree in the same colour. Only after many years of breeding I discovered the magic of " chaos", the wonder of "babel" when from generation to generation one colour alternates the other. When not everything is set already before the mating. When surprises are allowed. Beauty is exactly in the change, in diversity, in uniqueness of every single newborn baby.
Fantasy knows no borders and offers milions of possibilities. And I long to discover them, from the pinkiest paw up to the blackest.

---
Today we got results of genetic tests for PKD from T´amore, Hope and Ursa with negative result.
---
23.06.2017 - Day D
Has come the time when our children to left to the world and made a first step to their own journey of life. It"s time to meet a new family, a new home. We are happy and grateful that our family could grow up once again with new owners and together we are creating a bigger and stronger family of Silver Legend ♥ We wish to all our children a lot of luck and love, for everyone of them fly a big kiss to the world.
For Yvo, Yanno, Xiu Meio and X-BOX.

---
One of the most magic periods of the first steps, the first contacts, the first pronounced "meow"
We have the first photos of our youngest babies from D´litter, Dream, Diamond and Dyssel. ♥ also with a comfortable service of the love

---
Our beautiful 7 babies in the age of 9 weeks ♥
Amore Mio - BRI AS 11 33
Amarettino - BRI NS 11 33
Andreas LH - BRI NS 11
Axe LH - BRI BS 11
Angélique - BRI BS 11 33
Aimée - BRI NS 11
Ann - BRI NS


---
We will introduce soon new children in golden color from Hope and Wolly ♥♥♥

---
♥ ♥ ♥

---
Life is beautiful with love ♥ Our lucky seventh, 7 weeks old
Amore Mio - BRI AS 11 33
Amarettino - BRI NS 11 33
Andreas LH - BRI NS 11
Axe LH - BRI BS 11
Angélique - BRI BS 11 33
Aimée - BRI NS 11
Ann - BRI NS


---
My life with kitties ♥

---
When love works out more than fine, 7 lovely newcomers arrive on the scene ♥
Amore Mio - BRI AS 11 33
Amarettino - BRI NS 11 33
Andreas LH - BRI NS 11
Axe LH - BRI BS 11
Angélique - BRI BS 11 33?
Aimée - BRI NS 11
Ann - BRI NS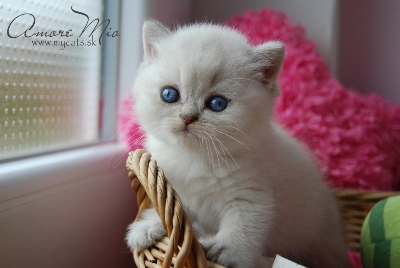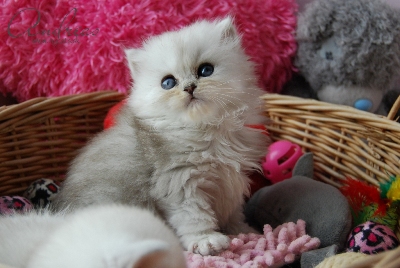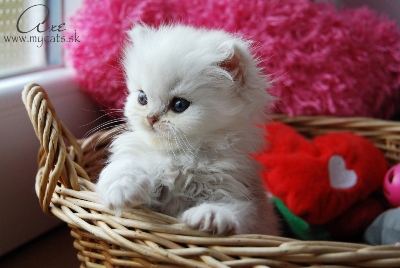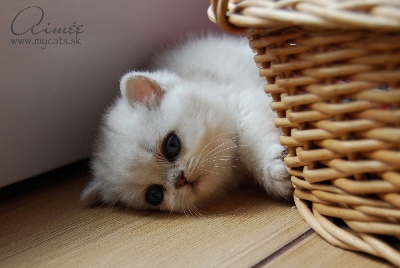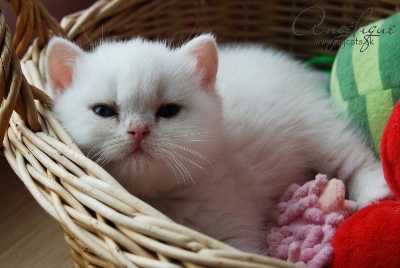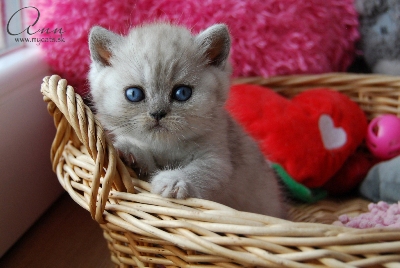 ---
A week met another week again, and our "X" & "Y" kitties grew up a little once more. On friday we enjoyed a day full with games, madness and adventures. It is not a five minute job to catch them in a pose without blurred face or legs. We open the 9th chamber of life, and await the introduction to Mr.Doctor soon.
---
Furball of many becoming one. With every movement its colour and shape change. One of the most magical wiews, wiew on our youngest litter, litter A.
It is for the first time in our breeding, that a litter of 7 was born, and survived.
Seven will stay the lucky number of the gang forever ♥


---
The end of March relieved the most gorgeous and biggest surprise ever. Mother Nature hid under the letter A one of most precious mysteries ♥ 7 astonishing kitties. I keep watching all the beauty and love personified in 7 little ones breathlessly. Paws knitted together. Someones head, tummy and back united in one amazing rainbow of colour, from snowwhite up to light gray.
First came the snowwhite duo, pointed twins, to the world, both boys.Third place belongs to the sweetest girl, Bubble.She´s also the smallest kitten from the litter and our precious treasure. Fourth and fifth position belongs again to boys, silver shaded + choco silver shaded. Sixth place belongs to silver snowwhite and the happy 7, the latest surprise, was a silver shaded boy. It has been very long and exhausting day for all of us. But at the same time a magical day, which will stay in my mind and soul for ever.
We proudly introduce our 7 newborns, born under the letter A:
Amore Mio - BRI AS 11 33
Amarettino - BRI NS 11 33
Andreas - BLH NS 11
Axe - BLH BS 11

Angelique - BRI BS 11 33
Aimée - BRI NS 11
Ann - BRI NS


---
Our kitties woke up into lovely, sunny day today, after long and cold winter. They, together with us, enjoy the magic and beauty of spring.
Beautiful snowwhite princess with magical eyes is still looking for her family, Xiu Mei of Silver Legend.

---
---
Here comes the time of striving and also the time of first successes. Our mini-paws discover and enjoy the love for motion ♥
Since the very second they open their eyes in the morning it is time for physical excercises every art.

---
We enter the period when one paw tries to find way to another, when the tiny nose and eyes are filled with surprises and new discoveries and the whole big world is awaiting us with its wonders. Mommy is guarding us without break time. She is teaching us new rules. How to run, jump and hunt, those are our goals ♥

---
Today is unforgettable date in the history of our breeding programm. It is a date, written 3 times in chronicle of life. On this day three years ago, our Butterfly and her siblings were born. Together with this litter, kitties from litter A were born as well. One year later this magical day was a birth date of litter J. Thank you all for being here with us ♥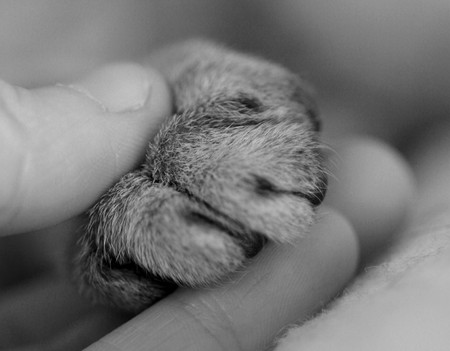 ---
"Abracadabra" ....the magical time of love and joy of new life entered our world again. And new generation of Silver Legend children in silver edition is here ♥ out of Réve and Wolly. Mother nature surprised us with very firm colour design dominated by silver this time. We have a sister and brother in silver shaded colouring and one girlie in silver point colour.
Let me introduce new generation of "snow paws", our litter X. .



On this lovely day another litter was born too, a litter of Savannah and Ice Coffe, Y litter. The inimitability of genes was evident since the first second...different from baby to baby. First came a golden choco boy to the world,second place belongs to pointed girl and third was a boy again, this time in silver shaded.

---
Comes to us one of the most beautiful season of the year, spring. The spring full of sunlight, flowers, colors, love and the arrival of new life.
Together with our cat paws wishes you a wonderful day full of sunshine.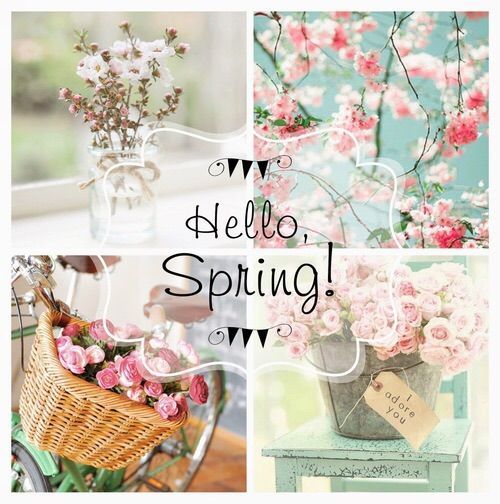 ---
07.03.2017 - Day D
Has come the time for our little children to make a first step on the way to adulthood and became a member of their new family.
To all new owners wishes lot of the beautiful moments with their new kitten.
The whole golden team from U litter:



Our unforgetable boys from litter V:

---
The most beautiful eyes with a head full of games and crazy things will soon be ready to leave for a new home.

---
Childhood is a time of fast and powerful as the current sea waves in a storm. All our memories are written deeply into the soul and sculpted from our unique personality.
Whole our team of mischievous paws enter the level "undergraduate" with all the skills of ten weeks old kitten.

---
Time is unstoppable master of everything. Something taking away and bringing something new . Biological clock in our feline family has run a dizzying speed and the time has come to build a new foundation. The fate shuffled all our plans and turned their to paws up. The power of fate for us chose three leafs of quatrefoil, H+E+T=♥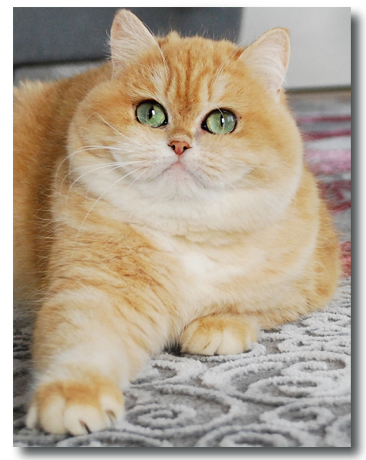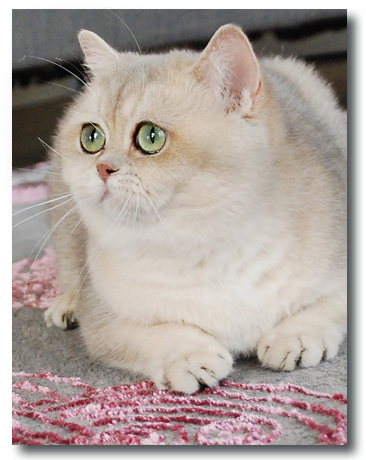 Quatrefoil of "new generation" closes the last, the fourth leaf - Rainbow Silver Legend. It"s time to step toward to a new way ...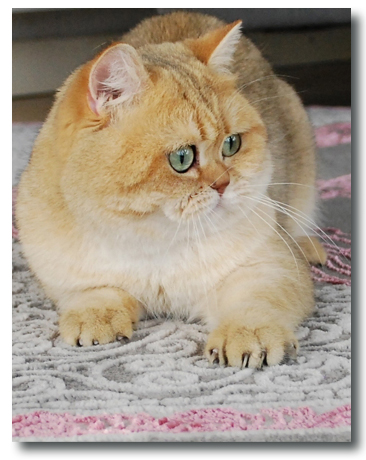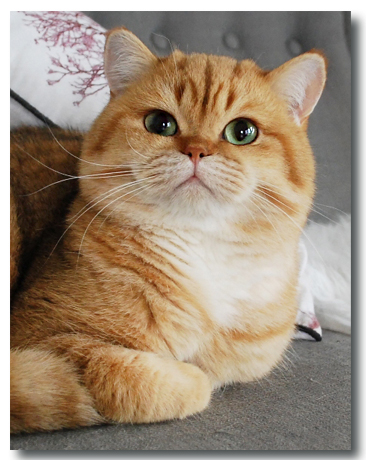 My big thanks to both breeders that I could become part of the family"s Blue Cat word and Sundust"s cats again.
---
The beginning of the year we spent in full work effort. Photo Shoot of all naughty paws at this age is not 5 minutes, so we spent a sunny todays day in largely time with play and catching of all unique moments of childhood.
Elapsed unbelievable 8 weeks from their birth and nine babies grown up in beautiful cat ladies and gentlemen. In the near future awaits them first meeting with veterinarian.
Our silver team - V:


And golden team U:



Our older kids are enjoying days full of sleep and lounging. 1000 and 1 position for a good sleep :)
Starring Tarra and Rainbow:


Full cat-pillow and also armful of children from litter V

---
Once Upon a Time, day met a day, week met a week, and December met a January and to us again came in the new year. Year 2016 was full of changes, full of plans, fulfilled and unfulfilled, full of our dreams and desires. In this year the fate shuffled all our wishes and made from them a new generation of Silver Legend. End of the year brought to us the first fruits of this generation and we had raised the first offspring from T"amore and EndelessLove and also a descendants from Ice Coffee.
Time to time into this world are born a kittens that remain forever unforgettable for me ♥.
Some changes of the outgoing year will be uncovered with the incoming year.


As the beginning of the year has brought a new members to our family, so his end brought the finishing of breeding career
for two our breeding boys Golden Yuma Kafidim and DIAMOND-PRO Olympus.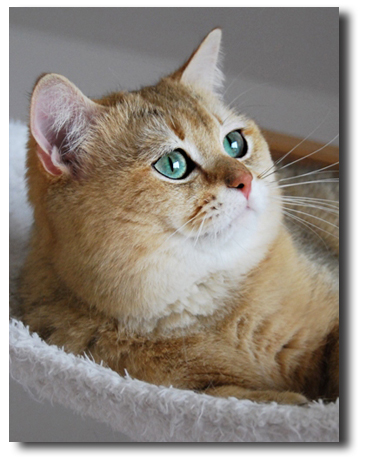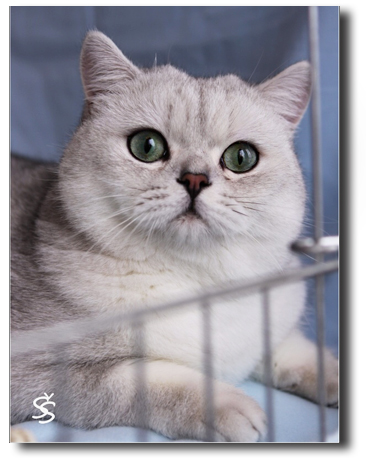 The chronicle of life was embedded a new leaf full of unforgettable moments and memories. Waiting to us a new 365 days...
---
In soft glistening night of stars,
hope all your aspirations come true.
May every star present in the sky,
Bring love and mirth to you.
Happy New Year 2017!

...wishes you a family Silver Legend.

Frost and cold is outside and beautiful hot temperatures inside. Sunshine is a tiny and so our whole family spend a day with relaxing and sleeping.
An incredible three weeks passed and our little children grew up in beautiful kittens. We are introducing our 4-member team at the age of 6 weeks, litter V.

And their "little sister" from a litter W, Winter Story.

---
May all the sweet magic of Christmas conspire to gladden your hearts and fill every desire.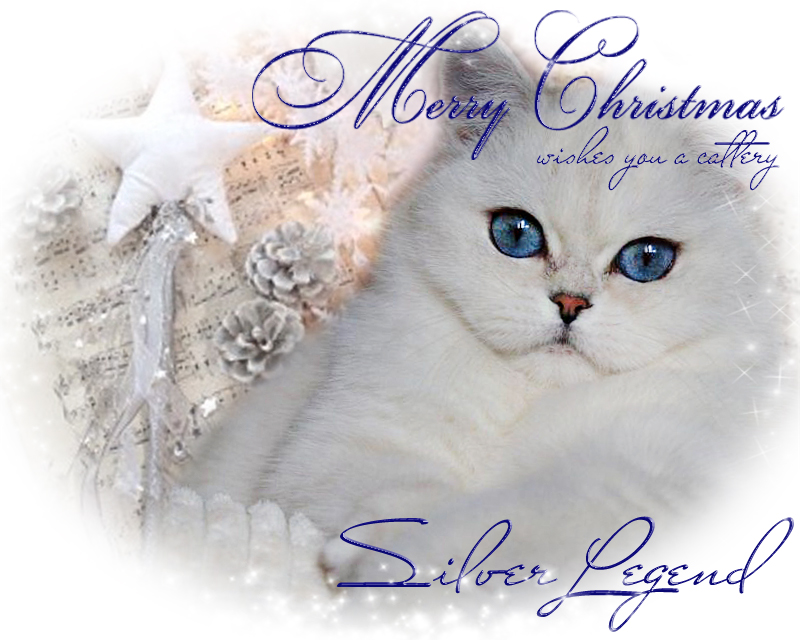 ---
So the infinitely wonderful feeling when you can not stop watching ... Still shaking our legs are full of desire to stand. Still it is for us the magic point it in only one step.
♥♥♥ Childhood is magical.

---
Life is a miracle that any of us gets only one for times. Chronicle of a new life started writing on fourteenth November 2016.
Hidden under the protection of mother"s paw we would like to introduce winter gift of babies, litters U, V and W ♥♥♥

---