© 2006 - 2018 www.mycats.sk | Počet prístupov: 223805 | Dnes: 140
Created by:
DORNA
| Webhosting
WEBTRADE
Aktuálne mačiatka
Ak máte záujem o mačiatko z našej chovateľskej stanice,
kontaktujte nás prosím e-mailom.

Mačiatka našu chovateľskú stanicu opúšťajú po 12 - 16-tom
týždni života. V tomto veku je už mačiatko samostatné
a pripravené opustiť starostlivé labky svojej mamičky.
Mačiatko bude pri odchode do nového domova 2x očkované,
4x odčervené, s hygienickými návykmi, čipované s Pet passportom,
zvyknuté na bežné zvuky domácnosti a spoločnosť ľudí.
Rezervácia mačiatka sa opiera o zloženie finančnej zálohy,
spravidla 30% ceny a podpis zmluvy. Viac >>

Naše plánované vrhy >>
****************************************
Kittens G3 of Silver Legend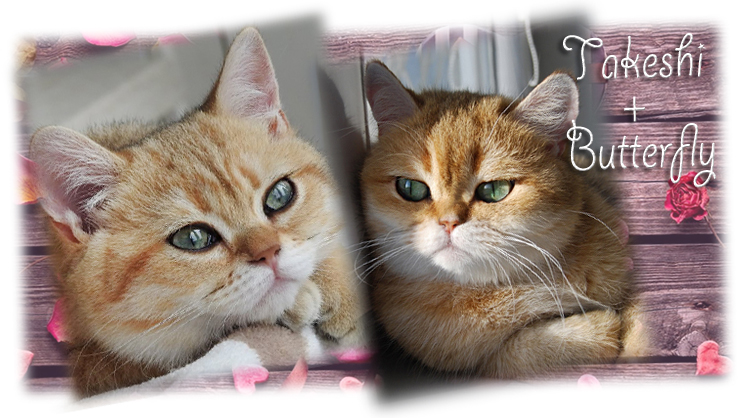 Dátum narodenia: 11.10.2017
Nový domov hľadáme pre krásneho, malého tigríka, Givenchy of Silver Legend a jeho čokoládového bračeka Goguška (Genesis of Silver Legend)
Pre viac informácii nás prosím kontaktuje e-mailom.
| | | | |
| --- | --- | --- | --- |
| Meno - Name | Sfarbenie - Color | Pohlavie/ Sex | Stav/Availability |
| Givenchy | BRI NY 11 (24) | | rezervácia |
| Genesis | BRI BY 11 | | voľný |
| Golden Beauty | BRI BY 11 | | rezervácia |
* V pozorovaní - u mačiatka sa sleduje vývoj
* Rezervácia - mačiatko je rezervované na základe písomnej zmluvy
Odber: stred januára
G3 kittens - video
G3-kittens of Silver Legend
| | | | |
| --- | --- | --- | --- |
| golden-beauty-10weeks21 | golden-beauty-10weeks13 | golden-beauty-10weeks11 | golden-beauty-10weeks06 |
| golden-beauty-10weeks03 | golden-beauty-10weeks01 | givenchy-10weeks17 | givenchy-10weeks16 |
| givenchy-10weeks15 | givenchy-10weeks12 | givenchy-10weeks10 | givenchy-10weeks05 |
| givenchy-10weeks03 | genesis-10weeks08 | genesis-10weeks07 | genesis-10weeks06 |
| genesis-10weeks05 | genesis-10weeks01 | golden-beauty-7weeks25 | golden-beauty-7weeks24 |
| golden-beauty-7weeks23 | golden-beauty-7weeks22 | golden-beauty-7weeks20 | golden-beauty-7weeks17 |
| golden-beauty-7weeks15 | golden-beauty-7weeks14 | golden-beauty-7weeks12 | golden-beauty-7weeks11 |
| golden-beauty-7weeks10 | givenchy-7weeks14 | givenchy-7weeks13 | givenchy-7weeks12 |
| givenchy-7weeks10 | givenchy-7weeks06 | givenchy-7weeks03 | givenchy-7weeks02 |
| givenchy-7weeks01 | genesis-7weeks15 | genesis-7weeks14 | genesis-7weeks11 |
| genesis-7weeks08 | genesis-7weeks07 | genesis-7weeks06 | genesis-7weeks04 |
| genesis-7weeks01 | golden-beauty-5weeks44 | golden-beauty-5weeks43 | golden-beauty-5weeks42 |
| golden-beauty-5weeks41 | golden-beauty-5weeks39 | golden-beauty-5weeks37 | golden-beauty-5weeks32 |
| golden-beauty-5weeks29 | golden-beauty-5weeks28 | golden-beauty-5weeks25 | golden-beauty-5weeks24 |
| givenchy-5weeks25 | givenchy-5weeks23 | givenchy-5weeks18 | givenchy-5weeks15 |
| givenchy-5weeks11 | givenchy-5weeks10 | givenchy-5weeks09 | givenchy-5weeks07 |
| givenchy-5weeks03 | givenchy-5weeks01 | genesis-5weeks35 | genesis-5weeks33 |
| genesis-5weeks31 | genesis-5weeks28 | genesis-5weeks26 | genesis-5weeks23 |
| genesis-5weeks21 | genesis-5weeks10 | genesis-5weeks04 | genesis-5weeks03 |
| genesis-5weeks01 | golden-beauty-3weeks21 | golden-beauty-3weeks20 | golden-beauty-3weeks17 |
| golden-beauty-3weeks13 | golden-beauty-3weeks10 | golden-beauty-3weeks08 | golden-beauty-3weeks06 |
| givenchy-3weeks21 | givenchy-3weeks20 | givenchy-3weeks15 | givenchy-3weeks13 |
| genesis-3weeks17 | genesis-3weeks13 | genesis-3weeks11 | genesis-3weeks09 |
| genesis-3weeks04 | g-babies-2weeks07 | g-babies-2weeks05 | g-babies-2weeks04 |
| g-babies-2weeks01 | | | |