© 2006 - 2023 www.mycats.sk | Counter: 634336 | To day: 27
Created by: DORNA
Our breeding cattery
Welcome to our website. Thank you for your visit and interest in our cattery.
We would like to introduce our small, breeding cattery, Silver Legend.

Our fascination for these wonderful creatures began to totally unplanned, by the arrival found a black kitten. It was late autumn of 2004, and our hearts gets a beautiful, shaggy bead with irresistible look that has become a member of our family with a name Sandrika. She showed us how beautiful and unique cats are. Her arrival brought us to our first British Shorthair cat and ultimately to breeding cattery.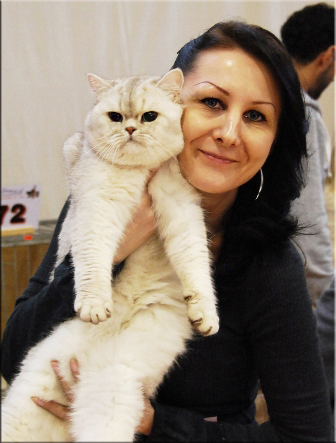 Breeding of a cats we are focused on since 2005 when we registered the kennel. We are members of the World Organization WCF. The aim and our big dream within a breeding program is creating our own lines of descendants of Silver Legend and its evolution to better type. In our breeding we want to continue to devote two of variety, silver and golden shaded and also variety point. Currently we are building a foundation and we hope that in the future we will be able to enjoy beautiful success in our breeding program. Our first step in the career we have done in 2005 by importing the British silver tabby male Faun Supra Felis from Polish kennel and his future wife, Gryffindor"s Silver Fleur de Flausch, which came to us from Germany. Also our first kittens were their offspring. Descendant of their first litter, a son Amaretto, represents us in Poland and reached the highest title Supreme Champion. Since the year 2006, we started with a new color variety Golden shaded. Our first golden couple formed a male imported from the famous German line, Golden Wolly vom Wahrberg and S * Litho"s Sunbeam from Sweden. In the year 2011 was fulfill our big dream and with a new color variety is becoming a reality also the first step towards our own lines in the form of daughters CH. Sundust"s Golden Esperanza, My Dream of Silver Legend. Support from the men"s side, Champion DIAMOND-PRO Olympus*RU, brings to us for the first time a kittens with blue eyes. His first daughter in this coloring, WooW of Silver Legend, becomes the founder of a new beginning in Silver Point. Since the foundation of our kennel have passed 10 years. During this time we managed to breed new members of family Silver Legend as is My Dream of Silver Legend, Savannah Legend of the Silver, Vannilli Blue of Silver Legend, Woow of Silver Legend, Legend and Butterfly of Silver Legend, who are I., II., and III. generation descendants of Silver Legend and remain in our breeding program. In 2015 for the first time enters into the history of our kennel a new generation of men"s submission, Ice Coffee of Silver Legend - BRI BS 11.
Breeding is love and a job for whole life.
Our cattery breeds British shorthair kittens in the colors
black golden shaded (BRI ny 11) / black silver shaded (BRI ns 11)
and blue golden shaded (BRI ay 11) and point variety.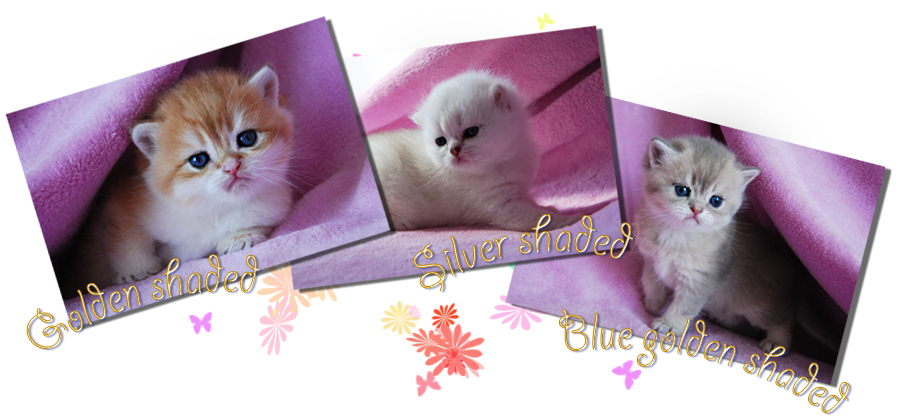 Our kittens enjoy love and undivided attention from us. For this reason, we are always looking for similar new homes where they will continue to be loved, nurtured and pampered.
We guarantee that the kittens are in perfect health when they leave the cattery. A contract is signed with the new owner and the kittens leave the cattery with their pedigree at 16 weeks of age. Every kitten is 4 x dewormed, and fully vaccinated before he leaves a cattery.
For us it´s very important to breeds healthy and happy kittens that make affectionate companions as well as exceptional competitors at a show ring.

If you have interest in a kitten from our cattery, please, feel free to get in touch with us by e-mail.

Our first kittens were born in juny 2006. From that moment has passed 8.5 years and in October 2013 with our bred kittens we got to the last the letter alphabet, Z. We are facing of a new challenge and second rounds of the alphabet. New babies, new way to choice of names, new adventures .... :)
Further informations we could see in previous litters >>
Mačiatka of Silver Legend
| | | | |
| --- | --- | --- | --- |
| Ice & Fire - Golden shaded | Ice & Fire - Golden shaded | Lagoone - Blue Golden shaded | Angel - Silver Shaded point |
| Diamond - Silver Shell | Essence - Blue Golden Shaded | Ice Coffee - Chocolate Silver | Mango - Silver Shaded |
| Olympus - Silver Shaded | Orlando-Chocolate silver point | Sugar Doll-Silver Shaded Point | Tarra - Silver Shaded |
| Aimée-silver shaded | Blue golden shaded | Blue golden shaded | Silver shaded point |
| farfalle8weeks11[1] | genevieve6weeks6[1] | ginger6weeks4[1] | hello6weeks3[1] |
| isiss9weeks6[1] | jamaica7weeks18[1] | kadilac6weeks5[1] | zio7weeks09[1] |
| yesterday35weeks2[1] | yeah35weeks5[1] | xampagne8weeks4[1] | xmas8weeks8[1] |
| xance8weeks6[1] | vivaldi9weeks3[1] | amazon14weeks14 | apple11weeks09[1] |
| Golden_point | ultimo6weeks01[1] | ultimo4weeks6[1] | LH_silvershaded |
| LH_silvershaded | obabies12dayss7[1] | oceane12days06[1] | oceane12days11[1] |
| Golden shell | Golden_shell | bentley4weeks21[1] | carrot3weeks20 |
| | | | |