© 2006 - 2021 www.mycats.sk | Počet prístupov: 516495 | Dnes: 62
Created by: DORNA
Kittens I2 of Silver Legend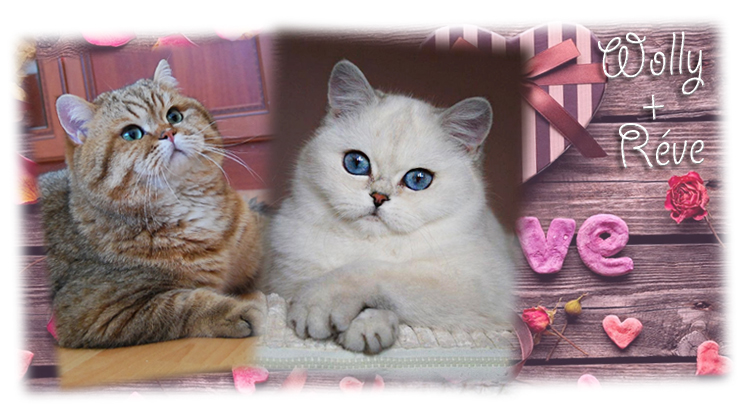 CH. Golden Wolly vom Wahrberg
BRI ny 11
&
BellArden Réve
BRI ns 11 33
GIC. Andy vom Wahrberg*DE – BRI ny 11
CH. Lady Di vom Wahrberg*DE – BRI as 11
CH. Diamond-PRO Olympus*RU - BRI ns 11
Charlebriston Rossella O´Hara*IT - BRI ay 11 33
Mačiatka I
Druhé prekvapenie nás čakalo len o pár dni neskôr. V skorých ranných hodinách Réve priviedla na svete "mini 5-ťku".
Malé farebné prekvapenie sa ukrývalo od mačiatka k mačiatku. Vďaka bohatému rodomeňu sa môžeme tešiť jedinečnosti farieb.
Predstavujeme tím I, špeciálnu jednotku "Mini labky" :)
The second surprise awaited us just a few days later. In the early morning Réve brought to the world "mini five"
Small colorful surprise was hiding from kitten to kitten. Through a rich pedigree we can enjoy the unique colors.
We are introducing the team I, a special unit "Mini paws" :)
Meno - Name
Sfarbenie - Color
Pohlavie/ Sex
New Home
Ice Coffee
BRI BS 11
Slovakia
Iceberg
BRI AS 11 33
Slovakia
Infinity
BRI NS 25
Slovakia
Imagine
BRI CS 11 33
GoldenPam*RU
Russia
Illusion
BRI NS 11 33
Switzerland
I2-kittens - video
I2 kittens of Silver Legend - FOTO:
| | | |
| --- | --- | --- |
| chocolate-boy | chocolate-boy3 | chocolate-boy4 |
| i-kittens | i-kittens3 | i-kittens4 |
| point-boy1 | point-boy2 | point-boy3 |
| points-girls1 | points-girls2 | points-girls3 |
| silver-girl1 | silver-girl2 | silver-girl3 |
| ice-coffee1 | ice-coffee2 | ice-coffee3 |
| ice-coffee4 | ice-coffee5 | ice-coffee6 |
| iceberg1 | iceberg2 | iceberg3 |
| illusion1 | illusion2 | illusion3 |
| imagine1 | imagine2 | imagine3 |
| imagine4 | imagine5 | imagine6 |
| infinity3 | infinity4 | infinity6 |
| ice-coffee-3weeks01 | ice-coffee-3weeks02 | ice-coffee-3weeks03 |
| iceberg-3weeks03 | iceberg-3weeks04 | iceberg-3weeks05 |
| illusion-3weeks1 | illusion-3weeks2 | illusion-3weeks5 |
| imagine-3weeks01 | imagine-3weeks02 | imagine-3weeks04 |
| infinity-3weeks01 | infinity-3weeks04 | infinity-3weeks06 |
| ice-coffee-4weeks1 | ice-coffee-4weeks2 | ice-coffee-4weeks3 |
| iceberg-4weeks1 | iceberg-4weeks2 | iceberg-4weeks3 |
| illusion-4weeks02 | illusion-4weeks04 | illusion-4weeks09 |
| illusion-4weeks10 | illusion-4weeks14 | illusion-4weeks20 |
| imagine-4weeks05 | imagine-4weeks14 | imagine-4weeks17 |
| infinitty-4weeks1 | infinitty-4weeks2 | infinitty-4weeks3 |
| ice-coffee-5weeks1 | ice-coffee-5weeks2 | ice-coffee-5weeks3 |
| ice-coffee-5weeks4 | ice-coffee-5weeks5 | ice-coffee-5weeks6 |
| illusion-5weeks1 | illusion-5weeks2 | illusion-5weeks3 |
| illusion-5weeks4 | illusion-5weeks5 | illusion-5weeks6 |
| imagine-5weeks1 | imagine-5weeks2 | imagine-5weeks3 |
| imagine-5weeks4 | imagine-5weeks5 | imagine-5weeks6 |
| infinity-5weeks1 | infinity-5weeks2 | infinity-5weeks3 |
| infinity-5weeks4 | infinity-5weeks5 | infinity-5weeks6 |
| ice-coffee-6weeks01 | ice-coffee-6weeks1 | ice-coffee-6weeks2 |
| ice-coffee-6weeks3 | ice-coffee-6weeks4 | ice-coffee-6weeks5 |
| ice-coffee-6weeks6 | ice-coffee-6weeks7 | ice-coffee-6weeks8[1] |
| illusion-6weeks1 | illusion-6weeks2 | illusion-6weeks3 |
| illusion-6weeks4 | illusion-6weeks5 | illusion-6weeks6 |
| imagine-6weeks1 | imagine-6weeks2 | imagine-6weeks3 |
| imagine-6weeks4 | imagine-6weeks5 | imagine-6weeks6 |
| infinity-6weeks1 | infinity-6weeks2 | infinity-6weeks3 |
| infinity-6weeks4 | infinity-6weeks5 | infinity-6weeks6 |
| | | |